Yoga Retreat at Mulloon Creek Natural Farms
Friday 11th to Sunday 13th November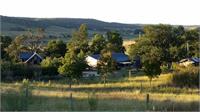 Good Friday 14th to Easter Monday 17th April
Get out of the city for Easter and enjoy some relaxing and energising yoga time in the bush. You can look forward to a healthy weekend of yoga and delicious food to restore and reenergise your system.
Set in the beautiful bushland of Mulloon Creek Natural Farms this is an affordable and unique opportunity to deepen your yoga practice in a supportive and peaceful environment.
Mulloon Creek Natural Farm is near Bungendore, a little less than three hours from Sydney.
Cost: $410: food and yoga included. We are very lucky to have Tama Carey as our chef. There will be a maximum of 16 students so please enrol as soon as you can to ensure a place.
The first class will be on Friday afternoon around 4. This means you'll need to leave Sydney before 12. You are welcome to arrive as early as you like on Friday. Six classes altogether: Friday night, Saturday and Sunday morning and afternoon and then the last class on Monday morning. Plan on leaving around 1 or 2 pm on Monday.
Accommodation is onsite. There are a few different accomodation options available and the prices vary from $25 > $80 per night per person. Camping is also an option with your own tent ($5).
Please contact Sue-ellen directly and as soon as possible (info@blacklotus.com.au or 0416 228 213) discuss the accommodation options available.
Enrol Online